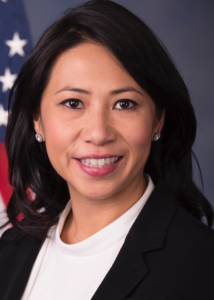 Stephanie Murphy
Board Member, American Australian Council
Former Congresswoman Stephanie Murphy provides significant leadership experience and expertise in the areas of public policy, national security, and business strategy.
In 2016, Stephanie was the first Vietnamese American woman ever elected to the US Congress. She was known as an effective legislator cutting through partisan gridlock to establish an exceptional record of legislative success. Stephanie was consistently named one of the most effective and bipartisan members of Congress during her three terms (from 2017 to 2023). She served on the Ways and Means Committee, the House Armed Services Committee, Small Business Committee, and the historic Select Committee to Investigate the Jan 6th Attack on the Capitol. She led the bipartisan effort to lift the federal gun violence research ban and created the tax benefit that enabled businesses to retain and rehire workers during the pandemic. Stephanie was a key player in delivering historic infrastructure and climate investments. She also carved out a role as a leading Congressional voice on trade and national security policy.
Prior to serving in Congress, Stephanie was an executive at an investment firm, where she evaluated business opportunities and worked with management teams to navigate regulatory and business risk. She started her business career at Deloitte Consulting and provided strategic advice to multinational companies. In addition, she was an instructor of finance at Rollins College and helped launch the social entrepreneurship program on campus.
Stephanie was a national security specialist at the U.S. Department of Defense, where she received numerous awards for her service, including the Secretary of Defense Medal for Exceptional Civilian Service. She helped to shape U.S. policy in the Asia Pacific by fostering cooperation in capacity building, disaster preparedness, special operations, and counterterrorism. Stephanie led the effort to set the Defense Department's strategic direction and priorities for security cooperation and contingency planning. She also worked on budget and acquisitions for the U.S. Navy.
Since 2023, Stephanie serves on the advisory boards of Coinbase and Altria. She is the co-Chair of the US Global Leadership Coalition and a national security advisory board member for the RAND Corporation. She is also a member of the advisory council for the Scowcroft Center for Strategy and Security at the Atlantic Council. Stephanie is a Pritzker Fellow at the University of Chicago Institute of Politics focusing on the intersection of business and politics.